If you're like millions of Americans stuck in their homes amid the COVID-19 pandemic, you might be looking for a little change of scenery. Whether you're in the mood for a more colorful space or a minimalist vibe, it's important to ensure that your living space is as comfortable as can be, especially while you're planning to #StayHome for the foreseeable future.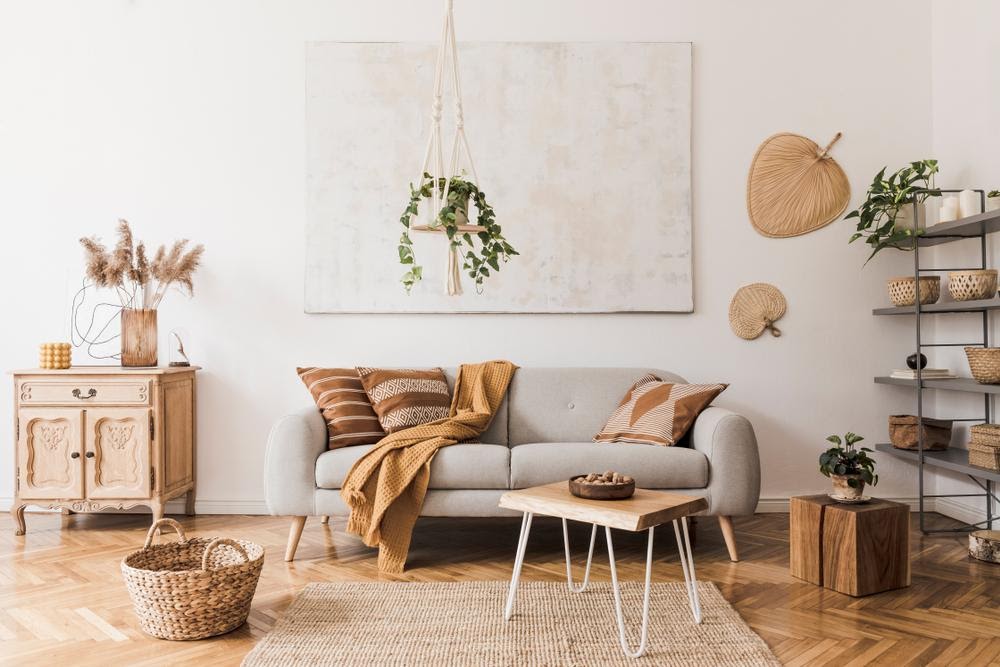 Never fear, homebodies! In this post, we'll share our best tips for creating a living room that's comfortable, cozy, and habitable for the long-haul.
Invest in a high-quality foundation
Your couch, coffee table, and accent chairs are certainly the cornerstone of your living room's comfort, but they also set the tone for the rest of your home's decor. Since these pieces play such a big role in your living space and the entirety of your home, cottage, apartment, or bungalow, it's a good idea to invest in a few high-quality pieces that you'll love for years to come.
If you're looking for a mid-century modern aesthetic, check out All Modern or West Elm for inspiration.
For a cabin feel, Kincaid furniture has just the living room furniture sets you need to create instant coziness.
As for a bohemian look, check out Anthropologie's curated selection and head to eBay or World Market to find more affordable alternatives.
Once you've nailed down your overall theme, you'll be ready to play with the unique textures and accents that will take your living space to the next level.
Incorporate plenty of personality
When you're first designing your living space, it's easy to pigeonhole yourself into one specific color or style, but it's the accents and art pieces that really make your home unique and cozy. Going for a minimal and modernist feel? Add in some warmth with a big bohemian rug or a few indoor potted plants that will surely breathe some much-needed life into your living space. The Sill delivers plants to your door so you can maintain your distance while you upgrade your home aesthetic.
Also: don't be afraid to bring in your personality by way of trinkets or vintage accessories. Have some kitschy travel souvenirs or art pieces stowed away in your garage? Make a fun weekend DIY project of finding creative ways to put your favorite memories on display.
Have fun with texture
Not only do soft, plush throws and blankets make your living room a comfortable place to be, but they can also add some interest or even a pop of color to an otherwise blank canvas. There's nothing quite like a Pendleton wool blanket to cuddle up while spending endless hours at home. Don't forget to add some pillows into the mix! Choose mismatching designs for an eclectic and individualized look.
To take textures even further, consider adding a few of these accessories to your living space:
Area rugs
Tapestries
Storage baskets
Wallpaper
Create warmth with lighting
The key to any inviting space is nailing the lighting. To create a welcoming and relaxing living room, switch out those fluorescent bulbs for soft white lights instead. Or, add some whimsy with string lights, lanterns, or ambient candles to convey the look you're after.
Here's another tip to help you create cozy lighting: swap white lampshades for shades with natural or darker tones that will dim the light to a more comfortable hue.
Infuse hominess with a comforting aroma
There's something so relaxing and comforting about being in a space that smells nice, and there's actually a science to support the effect aromatherapy has on our mood! To create an atmosphere that feels clean and even spa-like, try diffusing some essential oils. Diffusers are relatively inexpensive, but they can have a big impact on the feel of a room.
If you're looking for a scent to calm your nerves, try these essential oils:
And if you're looking for a pick-me-up to uplift your mood, give these a try:

Have relaxing, engaging activities on hand
Whether you're having guests over for a dinner party or you've got the house to yourself while you social distance, it's always nice to have a few activities on display in the living room. Jigsaw puzzles, coffee table books, and photo albums are nice passive activities to have out on your coffee table or media stand.
What do you do to make your living room feel cozy? Let us know in the comments below!