Yoel Benharrouche might not be a name that is instantly recognizable, however, it is one that should be known throughout the art world as he has been able to create a number of impressive pieces.
He is an artist that has continued to create his own style of art that has made him extremely popular amongst many collectors that take a keen interest in the style of work that he produces, with the Israeli painter falling under the category of being a contemporary artist.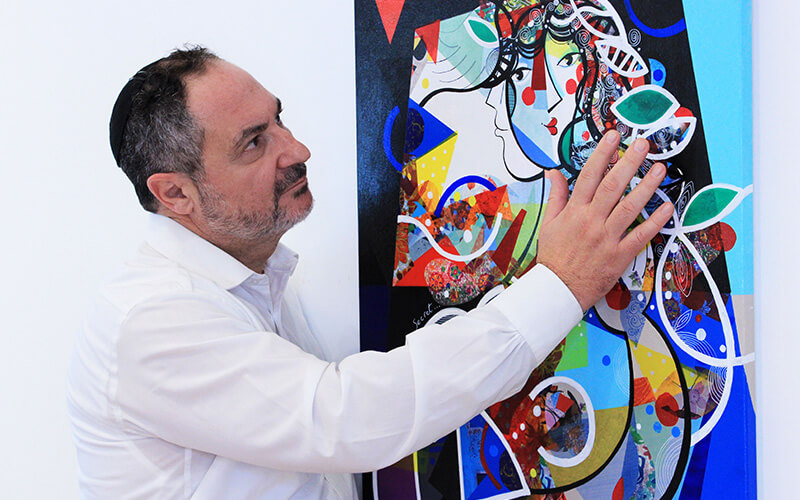 Indeed, Yoel Benharrouche's artwork is typically rather graphical, as they are figural representations that are painted with a primary colour scheme, with each of his pieces also featuring a rather inventive Modernist style. This can be seen in various pieces that he has created, with colours playing a key role as his passion for it is evident.
Who is Yoel Benharrouche?
Born in Beersheba, Israel in 1961, Benharrouche moved to the south of France where he became trained and educated to be an artist. He initially started to study technical fine art before deciding to independently study traditional Jewish texts.
Indeed, this would then go on to influence much of the creations he has managed to produce, with the Jewish culture helping to shape the majority of his work.
As mentioned, the Israeli artist has a strong passion for colour as many of his artworks are bursting with it in a number of different ways, whilst he also has a strong passion for life, as well as the spiritual nature of existence.
Types of Artwork
Perhaps unsurprisingly, the aforementioned passions that Benharrouche has are evident in the work that he produces, as he creates paintings and sculptures that aim to celebrate the history of mankind. Ps such asiece his "Voyage le long" and "Women and Musicians" perhaps help to highlight what he is trying to achieve with each painting he creates.
Benharrouche has a diverse collection that includes a range of different materials that he has used, with things such as acrylic on canvas, lacquer on metal, mixed media on paper, sculpture and acrylic on wood. The last one includes artworks that involve him hand painting on items such as musical instruments, as well as art palettes.
However, it should be noted that whilst he may be known for creating compositions on the various different materials outlined above, Benharrouche is continually looking to find new ways in which he can create new works.
His continued desire to continue to seek new ways makes him a popular artist and one of the most talented currently around, which is why he is one of the best artists that is not widely known when they ought to be!
Inspirations
There are many different inspirations and influences that have helped Benharrouche become the artist that he is, with some of the world's most famous artists having left a significant impression on the type of work he has created.
It is said that his main influences have come from masters such as Chagall, Picasso and Miro, although he has only taken elements of their work to try and come up with the unique pieces he produces. His own style of personal abstract is said to have come through each of the compositions he makes, with each one balancing strength and ethereal elegance.
In addition, his aesthetic originates from spiritual inspirations which have been derived from his lifelong study of various religious texts that he has looked at. Through his work, Benharrouche attempts to be able to encompass the diversity of life and imagination together, whilst also establishing a bond that will see heaven and earth be created together.