If you are creative when getting in touch with some IKEA products, you can easily transform them in whatever you like. Some people are quite good at this and today we want to share with you one really creative and useful transformation with the use of two old shelves from IKEA.
This project was done by Heidi from Honeybear Lane blog. She took two shelves from IKEA to make a long storage unit that turned out amazing. She was really happy when she finished it because it turned out exactly as she has imagined it.
First, Heidi took an IKEA shelf she already had and cut it in half. The two pieces turned the exact same height as her Expedit bookshelf. The next thing Heidi did, was painting the shelf with a primer and after that adding a few coats of dark grey paint over the the top.
Here is what it looked like!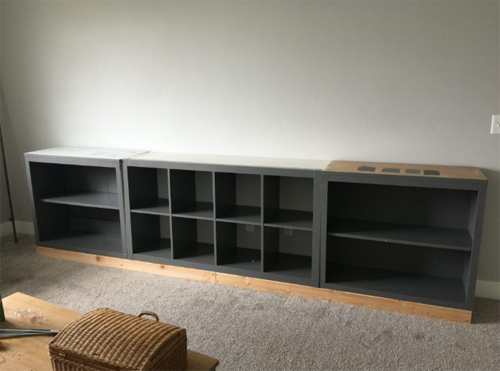 Find more details about this budget-friendly project as well as the final result here, and try to make one such storage unit for your home too.