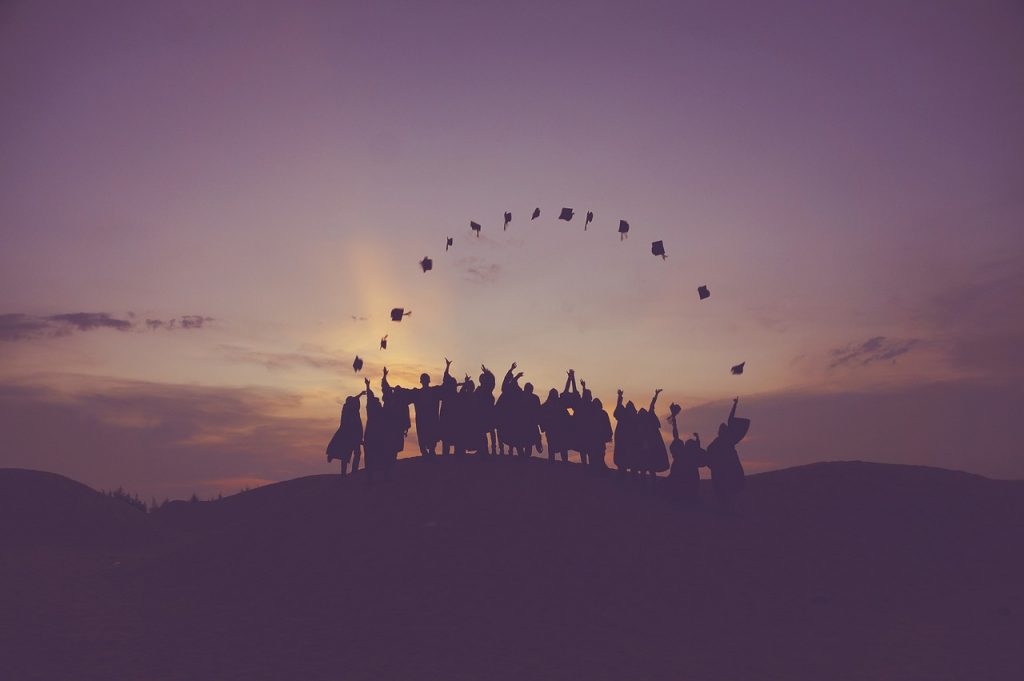 Graduating is no simple feat. That's why every graduation is worth celebrating! Check out our tips below on how to throw a successful party that your grad—and your guests—will never forget.
Do your homework.

Your grad did their homework—now it's time to do yours. Decide on all the details, like the time and location of the party, your budget, and the guest list.
If you're throwing the party at your house, check in with your neighbors just to make sure your guests have ample space to park along the street. Or, if you're partying at your grad's favorite restaurant or a rented event space, make sure you have solidified your time slot and date with the hosts or coordinators.
Start gathering names and addresses of your guests early so you're not scrambling at the last minute. This is going to make addressing all your invitations a breeze.
If you have all your details pulled together ahead of time, it's going to be effortless to input into your graduation invitations. Which leads us into our next tip…
Send out actual invitations.

And do it early on, too, so it gives your guests time to clear their schedules. It can be tempting to rely on word of mouth or an email thread to let all your guests know about the party, but this can get messy and confusing really fast, and some people are bound to miss the memo completely.
Making invitations doesn't have to be difficult! An online custom print shop like PurpleTrail allows you to choose from an expansive selection of trendy designs and customize your cards with your grad's name and photos, and of course all your important event information.
Make sure to specify an RSVP by date and leave a phone number or email address, so you can get an accurate head count for your party. Or, opt for an easy-to-use online RSVP service that'll keep track of all your guests' responses for you. Including an RSVP will help you order the right amount of food and prep your event location for a certain number of guests.
Choose your food wisely.

Party food can often be a hit or miss. An assorted selection of finger foods is always a good choice, especially since your guests will want to walk around and mingle. Snack trays are easy to purchase and assemble, too, and there's still room for creativity. Set up several "food stations" so all your guests don't have to congregate in one area to get something to eat.
If you're looking to serve more of a hearty meal, try to steer clear of cooking everything yourself—you'll be in the kitchen all day and won't have a chance to enjoy the celebration of your son or daughter. While it might be a little pricier, investing in catering or takeout for the day of your event will definitely keep the burden off your shoulders. A catering company might help with cleanup, too!
If you really want to keep costs lower and don't mind preparing food, consider hot dogs and hamburgers so you can easily throw them onto the grill and still spend time with your guests.  
Food is a great way to express your grad's individuality and throw a truly one-of-a-kind event. Include some of his or her favorite foods or snacks as a tribute. If he loves Mexican food, working with a taco truck caterer is bound to impress him and your guests. If there's a bakery she goes to every Sunday, surprise her with a tray of her favorite cookies or cupcakes. The possibilities are endless!
Decorate with graduation décor as unique as your grad.

Make sure your grad knows that this party is a celebration of his or her accomplishments. Decorate the event space with colors of their current school or future school. Consider an overall theme for the party.
Order some custom décor so your event feels personalized to your very special grad. Customize a guest book with their name and senior photos, so your guests can sign in at the event and leave their advice and well wishes. Guest books often become a treasured keepsake for years to come. Many grads graduating high school end up taking their guest book with them to college!
Personalize an indoor or outdoor banner to hang at your event, proudly displaying your grad's professional photos. Or, if you're feeling nostalgic, customize a banner with photos of your grad throughout the years of their life. It's bound to have a heartwarming impact on both your grad and your guests.
Prepare the perfect playlist.

Your party's music is the soundtrack of your grad's life. Okay, that might be a little too dramatic, but you want to make sure your party's background music is fun and inviting for everyone—especially your grad! It's their big day, after all. Consult your grad so you can add some of his or her favorite songs throughout the mix.
Think about your crowd! If you're inviting older relatives, like grandparents, or very young guests, like younger cousins, refrain from playing anything too explicit. Popular dancing songs like the Cha Cha Slide or Cupid Shuffle are great choices for family-friendly fun—it also encourages people to bust a move on the dance floor.
If your grad wants a more sophisticated or laid-back party, look for a jazz or instrumental music playlist. Music streaming platforms like Spotify or Pandora already offers pre-built playlists for different genres.
Keep your guests busy.

Your guests can only eat and drink so much before they run out of things to do. Most of your guests will be able to mingle the night away, but others might get bored and want to leave early.
Arrange some fun activities to keep people's interest peaked throughout the party.  If you're having a summer party and expecting sunny weather, set up some outdoor games like bag toss or badminton. If you're partying indoors, consider activities like karaoke, dancing, group board games, or cookie decorating. Rent a "Selfie Booth" to create endless memories. These are especially good ideas for younger kids who tend to lose interest quickly.
A game that has recently been trending is JackBox Games. This is the perfect game for the modern age—it's played completely through smart phones and your TV. Each player joins and plays through his or her own cellphone, following prompts on the TV to participate in a diverse and unique selection of entertaining minigames.
Make sure your grad knows that the hassle was worth the tassel. It's time to celebrate! When it comes down to it, all you have to do is follow one simple rule: create a day that your grad will never forget. The rest will follow suit.