If you've recently moved into a new place, you may be looking around at all the empty space wondering how you'll fill it. A new apartment is a new canvas to work with: you get a clean slate to totally rethink your home's appearance and make it the perfect sanctuary at the end of those long days at work. In this post, we'll cover three of the most important tips to keep in mind as you decorate your new apartment.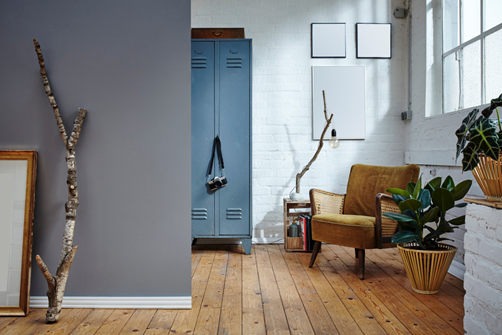 Tip #1: Personalize, personalize, personalize
There's nothing worse than walking into someone's apartment and feeling that cold, alienated chill of a completely impersonal decoration scheme. You know what I mean – the blank white walls, the hastily purchased furniture, the modern kitchen with not a single fun magnet on the fridge.
Avoiding this kind of gross interior, utterly bereft of personality, should be a priority as you design your abode. These are some of our favorite ways to personalize your apartment so, when people come to visit, they immediately get a sense of what a chill and interesting person you are:
Memorabilia from your favorite shows, concerts, or travel destinations – think framed posters, fun foreign decorative pieces, or photos of you and your friends and family.

Cool personalized decorations like a

custom canvas

with a photo of a memorable event or special occasion.

Show off your hobbies by exhibiting them in communal spaces. A guitar or piano in the corner, or your sweet gaming rig, can be great ways to make your space look like a human actually lives there.
Don't be afraid of showing off your personal style in your home. After all, with the minimalist design craze conquering interiors from cafés to offices and restaurants to homes, it's important to branch out a little and add some color to your life through personalized décor elements in your home.
Tip #2: Pick a cohesive aesthetic
One thing that all the best interior designs share is a cohesive aesthetic that ties together all the elements in the space. As you choose the furniture and decorations for your space, you might want to start with a theme that will make everything consistent. Here are some popular and creative design options:
Viking mead hall

Cowboy rodeo

North African Desert Punk

Incan Terrace Farms

Jimmy Stewart Mega Fan

90s Grunge

Quentin Tarantino Film Enthusiast

Disney Princesses Reimagined as Goths

Haberdashery

Turkish hookah lounge

Sale at Ashley's Furniture Home Store
Just remember that the key to developing a cohesive design aesthetic is keeping all the furniture and decorations on-theme. It may take a while to select the perfect theme and find all the right elements to flesh it out and really sell it, but trust us, it's well worth it in the long run. The amazed looks and bountiful compliments you'll receive from guests will be make the months of toiling over design choices so worth it. 
Knowing how to select the right elements takes a little bit of planning and budgeting, however. That brings us to our third and last tip.
Tip #3: Know where to splurge and where to be thrifty
There's no doubt about it: shopping for interiors can be an expensive endeavor. That's why it's important to know what items to splurge on, and where's it's smarter to be a little thrifty and try to find the best deals. Some items that we often suggest spending a little extra on include:
Couches: Remember, people sit on couches every day. They get worn-in easily because of that, and with a cheaper bargain couch, it can start to show very quickly. We recommend staying away from cheap leather or faux-leather couches especially, as these often start to peel and flake, which is truly a dismal sight.

TVs: A

premium television

is the modern hearth of your home, providing comedic relief or cathartic tragedy at your beck and call. You want to be sure that it will serve you dutifully, so spending a little extra on a well-reviewed, trustworthy TV is often recommended. That way, you don't find yourself replacing it soon.
Items it's okay to be thrifty with include:
Accent tables: these aren't used often, so it's generally okay to pick something pretty but cheap.

Decorations: if you can find decorations that suit your aesthetic on the cheap, go for it. They generally don't face much wear and tear.
For more design tips and tricks, check out everything décor-related on MyAmazingThings!