Showering during winter is usually a tricky affair for most of us. Sometimes it is too cold, and you may feel as if the cold is reaching your bones. This experience is not only prevalent in children but also, adults. Most of us get into the bathroom for two minutes then come out.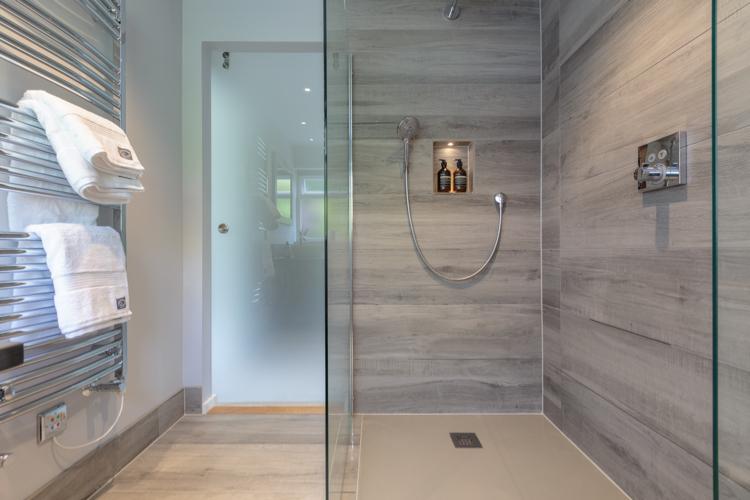 Bathing should be your form of therapy to help you relax and reduce any anxiety or stress. Today we will teach you how to enjoy your bathing time, by preparing yourself, the bathroom and what you should do in it. Enjoy!
Work out before your bath
Make your body crave for a shower by working out or running errands some few hours before. You can also take some walks with your pet or skip at home to sweat so that you are ready for a relaxing bath.
Meditate
If you are stressed out, meditating will help you enjoy your bath. You can use this time to think of the things you enjoy such as an ongoing project. Daydream about your shower draining all your problems away.
Prepare your bathroom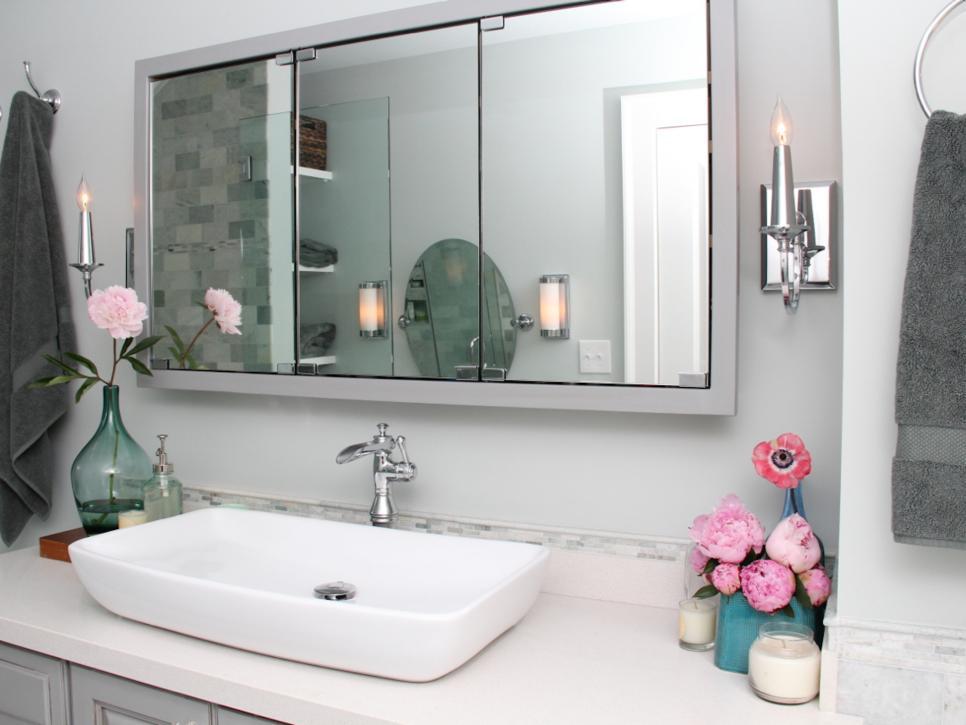 A clean bathroom encourages you to stay in it. Scrub the floor, the tab as well as the walls of your bathroom  before you decide to take that bath. Get rid of all the molds on the corners and crud that may be accumulating in the bathtub.
Put your curtains into your washer to eliminate molds. You can also change the old towels to new refreshed ones. You can use vinegar to clean the towels. Dry them in your dryer to make them feel warm. You can also heat up your bathrobe in your dryer before bathing.
Check the temperature of your water to ensure that the water heater is working accordingly.  If you notice any leaks or lack of consistency from it, inform your home warranty to fix it. Most landmark home warranty reviews will tell you that the company is reliable and ready to help in such situations.
Play music
It is time to prepare your mind psychologically by setting the mood of your bathing time. You can do this differently, for instance, using soothing music that calms you down. Play different collection from what you are used to such as jazz, classical or using natural sounds like a bird song or the rain.
Use candles on your bathroom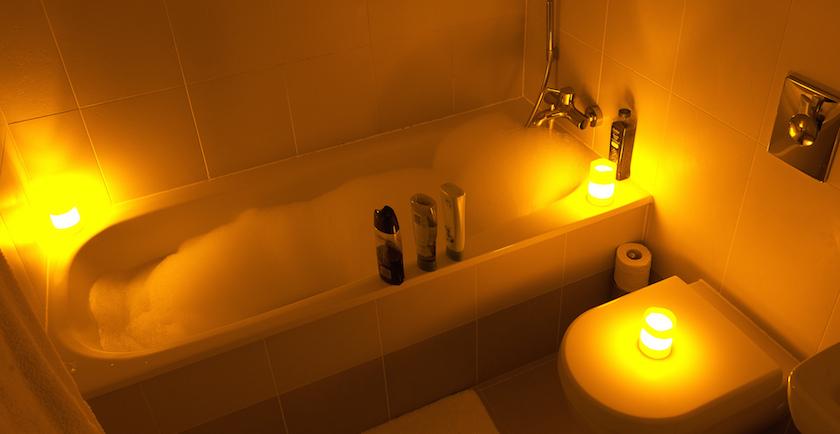 You can get the dim lighting from candles to make your bathroom look appealing instead of  the regular lighting. Sometimes bright lights are garish and can cause headaches if you are stressed. Candles give you a soft glow and make your bathroom tranquil. They relax your mind and put you in a state where you don't want to leave the bathroom.
Place them in different corners such that they will not keep on falling. If you are obsessed about them starting a fire in your bathroom, you can always go for the battery candles. They give you a pleasant fragrance and an orange glow. The Himalayan lamp is also an option to help you relax as you purify the atmosphere of your bathroom.
Hang some lavender on the shower head
You can also tie some lavender by using a loop on your shower head.  A bundle of lavender above your shower releases some calming aroma when the heat from the shower runs. You can also consider eucalyptus or lemongrass to refresh and relax you. Use essential oils in a diffuser bottle and place them close to your shower. It will clear your mind and help you stay in the bathroom for hours.
Make your bathroom natural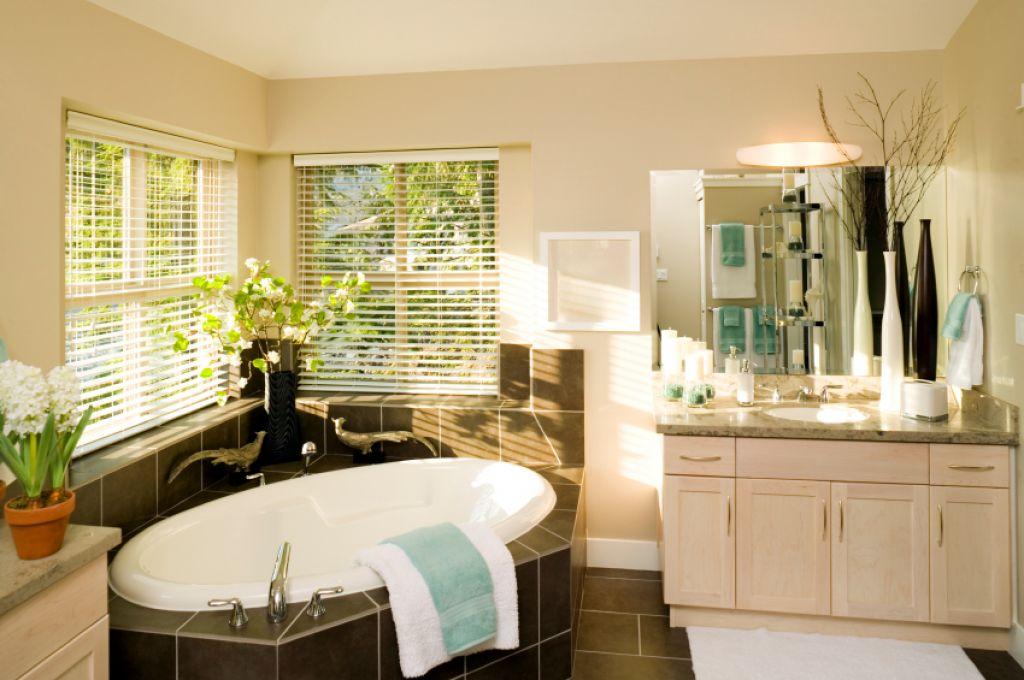 Live plants make your bathroom look serene to help you relax. Be choosy with the plants you use for instance don't take the ones that require too much sunlight to prevent them from withering.  A suitable collection would be plants such as ivy, orchids or philodendron.
These plants are easy to manage since a plant like a philodendron only needs fresh water in a vase with no soil. You can also use fake plants if you don't like nurturing live ones. You can go for counterfeit green plants that give you the same effect of a serene environment in your bathroom. Ivy plants are the best at this.
Pick towels you are comfortable with
Towels vary in material, and this makes you biased to particular ones. Soft, large fluffy towels have a soothing effect. Ladies like such towels with fancy patterns that make them more adorable. Use them to help you stay in your bathroom for hours as they transform your bathroom into a spa. You can also bring along a bathrobe that is relaxing thanks to its soft texture.
Use bathroom products in plastic containers
You can avoid the mess you leave in your bathroom by making use of plastic containers. They make it easy to access your products and leave a luxurious effect. This translates to a more relaxing shower. If you go for glass bottles, get a pump to allow easy squeezing of your shampoo or your conditioner.
There are some bathroom products such as solid bars which limit you to a dish. Get a dish that is pretty to draw that smile on your face every time you want to use it.  
Use bath products that are healthy and refreshing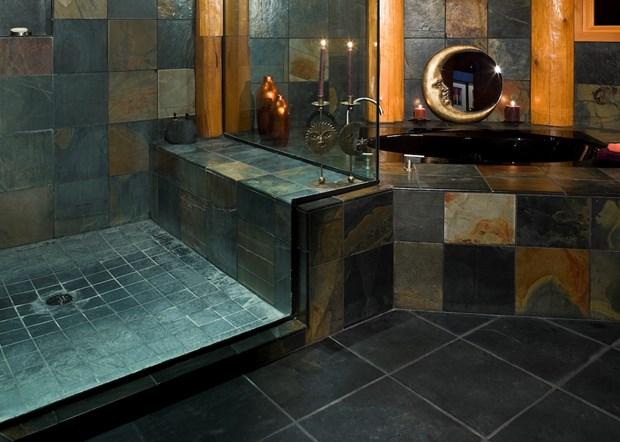 Most of us spare some shower gels for special occasions. Take this as one of those occasions and use it to improve your mood through its fragrance and feel. Use comfortable scrubs to get rid of dead cells on your skin. Moisturize your body with butter that has a soothing effect. You can always use lavender scented products to eliminate stress or bathroom anxiety.
Conduct massage
Massaging does not have cost you lots if you can do it from the comfort of your home. Use shampoo to massage your hair. Watch your eyes to avoid exposure which can give you a bad experience. Use exfoliating washers to rub your face using circular motions.
Final thoughts
You can make your bathroom a relaxing experience using the techniques above. Whether you are stressed or have bathroom anxiety, they will help you. Now is a good time to start!