While bare tiles and minimalism help a lot during the summer time but in winters it can get really uncomfortable. Winters can no doubt become intolerable sometimes but a home with coziness can really help in regaining that warmth that is much desired during the winters. Warm and cozy houses are more inviting. People love to pay visits to such homes and spend time there. If you are someone who loves to entertain guests, or are preparing for sale with some quick home staging, then you should consider cozying your home a little. Fortunately, it is not a very difficult task to add warmth and coziness in your home. You can do it easily just by following a few simple steps.
Add Huge Throw Pillows
It is time to splurge on that huge throw pillow that you have been loving. Yes! It can do wonders in the winters for you. You can add a few (or just one if yours is too big) throw pillows on the couch. If you already own some, then put on some new pillow covers for a change. Make sure the pillow covers are nice and trendy and match with the color scheme of the room. Throw pillows will add a slight coziness in your home that you will love.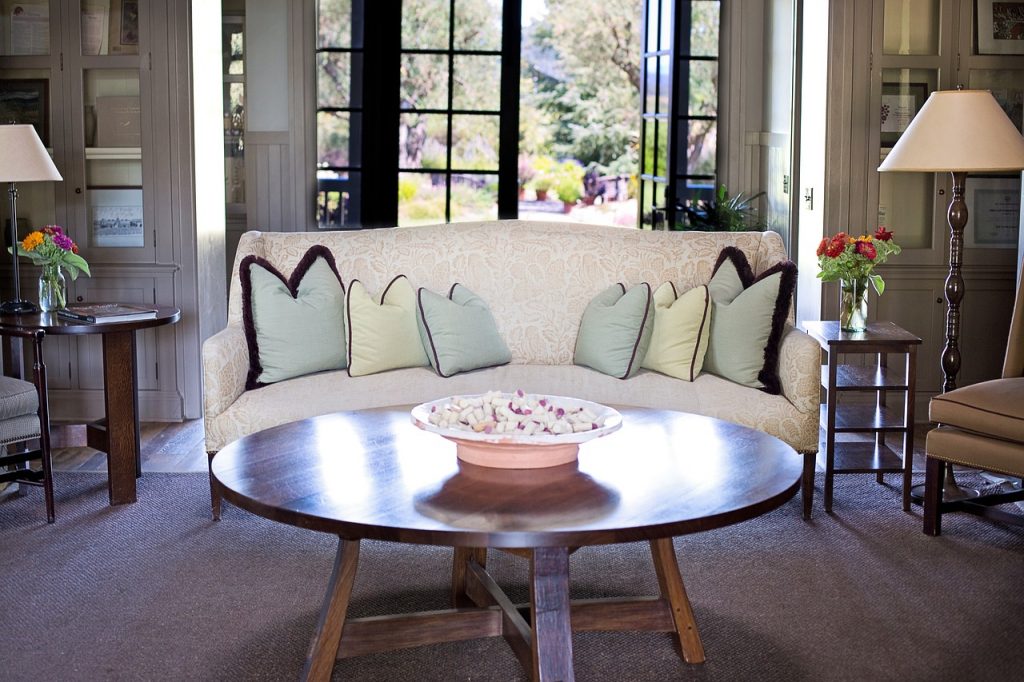 Add Soft Lighting
This one is a must. Soft lighting can really change the mood during winters. Chilly nights can make you sleepy way too early and you can end up wasting a lot of time. One way to tackle this problem is by adding soft light in your home. The white and bright light will make you feel tired so instead of those, add soft lights in your room. Warmly toned lights on the bedside will keep you awake.
Change Your Bedding
While cotton and linen beddings are great for the summertime, they can become a little uncomfortable during the winters. The harsh cold of winters requires something cozier and warmer. If you want to have the most relaxing sleep during the winters, then it is essential that you update the bedding. You can go for a jersey bedding or a flannel bedding. Both work great for winters. While you are updating the bedding, make sure that you add a soft and warm quilt as well that will keep you warm and cozy during the coldest of nights.
Add a Curtain Wall
Curtain walls are a great way to add warmth along with a visual interest. Adding a curtain wall in your home will add an artistic twist as well. It is also a very affordable way of decorating your room and adding comfort as well. You can get curtains from Ikea for as low as $10 per pair. So, head over to the store and buy the one that matches best with the color theme of your room. Curtain walls usually look the best on the wall behind the bed. It adds an amazing theme to your room. The bulk of the cloth material also adds coziness and warmth in your room. It is a great way of dealing with the harsh cold in the winters.
Use Scented Candles
Lighting up candles during the winters is the best way of adding warmth to your home. Candles are an amazing way of making your home comfortable. You can buy scented candles and they will make your home smell great. A fresh and beautiful aroma in the house can help in relaxation. Buy some of your favorite scented candles and light them up to add warmth to your home. But be sure to never leave a candle unattended.
Use Darker Paint
Painting a room with a different color instantly gives a makeover to the room. It is the best way of redecorating a room. You can paint your room a darker color in the winters to cozy up to the room. Dark colors can help in warming up the room. Anything from dark brown to charcoal grey will look amazing. Make sure that the color matches your furniture.
It is important that you cozy up your home for the winters. It will help you cope with the harsh weather with ease. One thing that you should take care of is the roof. Make sure that it is not broken. If it needs repair you can contact the Roofers Macomb County Michigan to get it fixed. Broken roofs can make your home chilly. Get it fixed so that you can enjoy the warmth of your home in the winters.