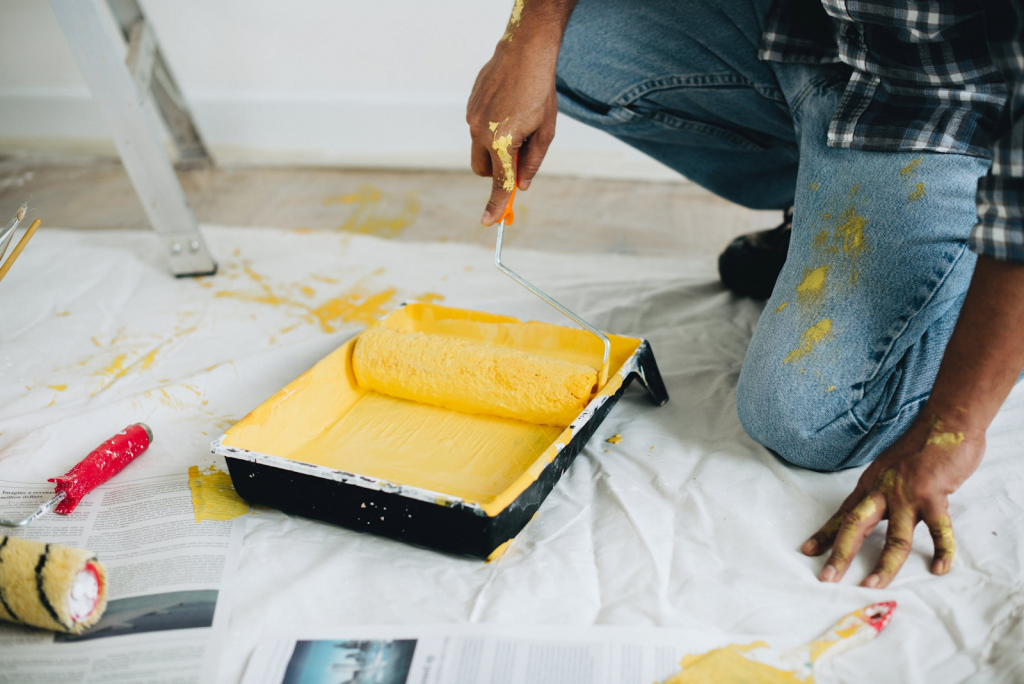 There are many instances where you'll feel like you need a makeover for your home or when you're moving into a new one to make it your own. More often than not, you'll hire a professional painter to get it all done. But who's to say that you can't go ahead and do it yourself?
Painting the walls of your own house could be tiring, but it is also a chance for you to get creative, and it could be a fun experience or activity for you and others. Whether you are painting the walls of your new house, painting the cracked walls in your current, or painting a old wall that needs a splash of a new color, pattern, or design, there are a lot of steps that you need to familiarize yourself with before acting out on an urge to paint your walls, so you can give it that professional finished look. You want your walls to end up looking fresh and new, unfortunately that's not going to happen unless you know exactly how to prepare for it, which tools you will be using, and how to paint.
Once you're well prepped, the next step is to go ahead and actually paint like a pro! Read on to get all the information you need to first, prepare yourself, and then we're going to give you the top 5 ways for you to paint like a pro!
The Preparation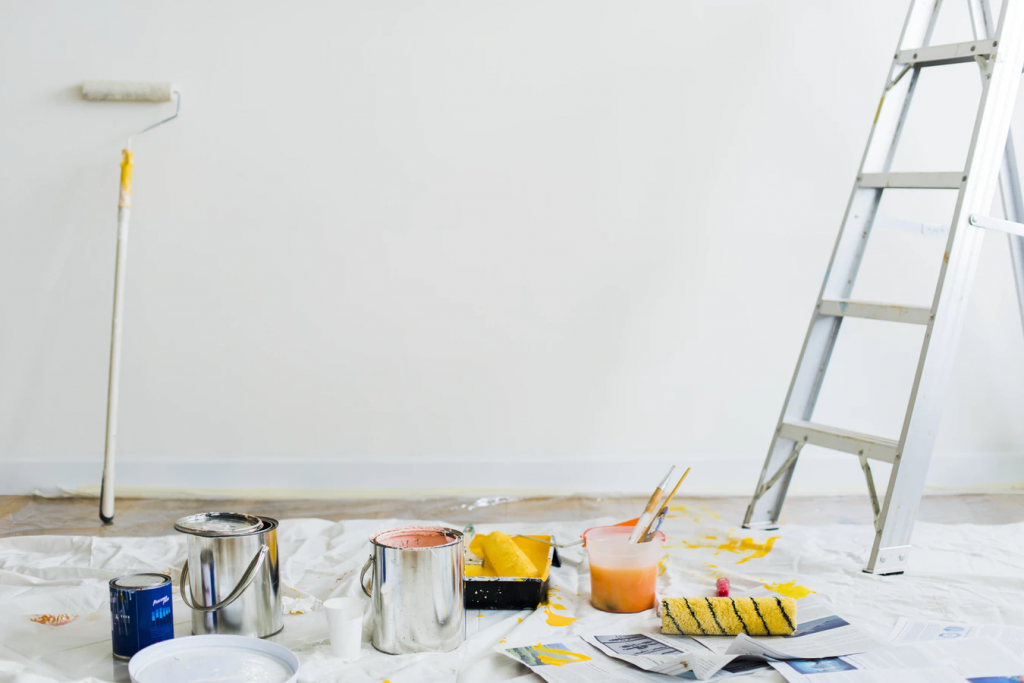 It's very common that when doing DIY paint jobs, people tend to look after the part where you need to inspect the surface that you're planning to paint. It's extremely important to look for cracks or uneven parts of the surface so that you can go ahead and scrape away any imperfections. After that's done, you must sand it off to make sure that it is perfectly even, and wash it so that there is no residue left to mess with the paint job. If you skip this step, it's very likely that the culmination of the old and new paint will weigh too heavy and eventually start to peel.
Once you're done with cleaning your surface, you have to make sure that you have the right tools, such as the brushes, the tape with which you'll line the walls with, and the roller covers to give you clean, even coverage. You can even opt to use an airless paint sprayer if you'd like, just make sure you are well informed on how to use it.
It is also important to be safe and clean throughout this process, so make sure that you get a sturdy ladder, have separate clothes that will get super dirty, and enough plastic cover and old bedsheets so that your floors and other surfaces don't get paint on them. You will also need to get any furniture out of the way if possible.
The Primer
There are many misconceptions when it comes to primer. It is widely believed that you have to apply a primer before the paint, but this only applies to walls that are brand new. Another instance is when you have bare spots on your wall, this will need primer as well. If you intend on covering a dark color with a light color, this will require you to use a primer first.
If you have a new wall that you want to paint yourself, be aware that there are a variety of kinds of primer, so make sure you pick the right one for your paint job.
The Paint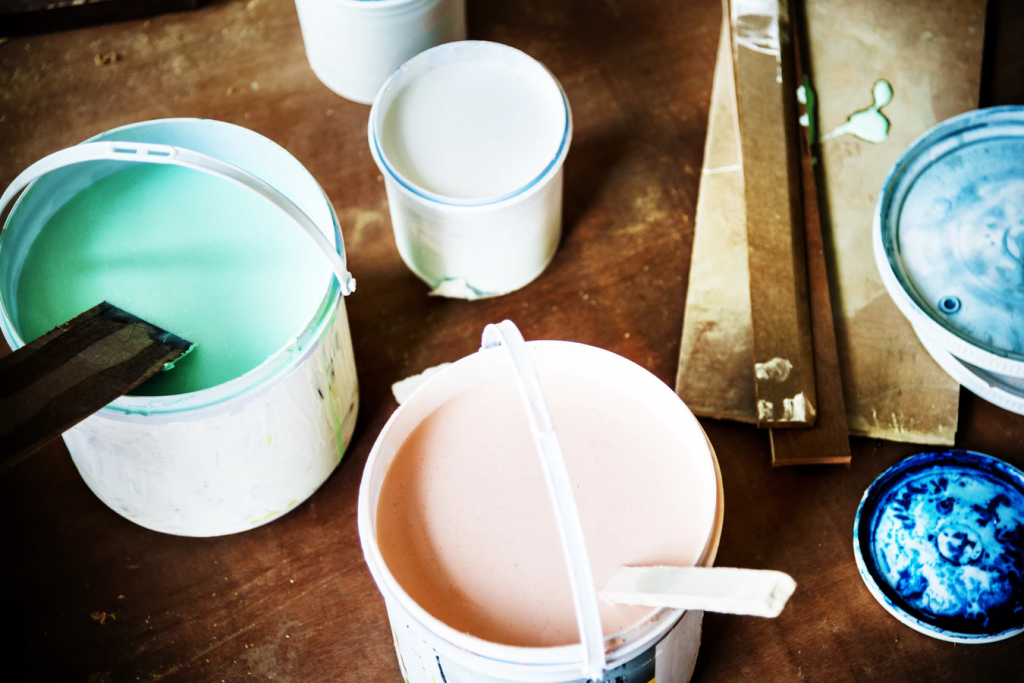 This is the most important part of your job! You need to do a bit of research and shopping before you decide on not just the color, but also the kind of finish the paint should have. If you're putting a color on top of another, make sure you do a test patch to see how it comes out because there's a possibility that it will not come out exactly the way it looks in the container.
You can go for either oil based or latex based paint. If you're also planning to paint anything in the house that is made out of wood, then it is advisable to go for the oil based paint because that fares better with wooden surfaces. However, if you're painting your walls, the better option would be latex. This is because of the glossy finish and it is also much easier to clean, so will definitely last longer. There are different degrees of gloss too, so pick to your liking.
If you want to give your final result a really professional look, then you have an amazingly creative pool of options that will look like they were done by a pro, but are actually not that difficult to do.
Here are the top 5 ways to paint your walls like a pro, hassle free.
1. Geometric Walls
These paint jobs, look very unique and have clean lines that can really compliment the furniture in your room. To get started, either draw up the design yourself on paper, have someone draw it for you, or get it from the internet.
Start off by applying the base color on the whole wall, putting on two coats is sufficient to make sure that the paint looks even. After the paint has dried completely, use painter's tape to draw your design. After you're satisfied with the design, go ahead and paint in the shapes with the colors of your choice. After the paint has dried, remove the tape. You can also fill in the outlines with different colors if you're feeling really creative!
2. Ombre
The ombre style can seem to be very intimidating to do on your own, but it's really not! This style never really goes out of fashion and is very practical because you get to integrate as many colors as you like, to go with any kind of interior.
Pour as many colors as you'd like to integrate into separate paint trays, and make sure you have a separate roller for each. Before you add the colors, it's a good idea to have a base, usually white is the way to go if you want the colors to look exactly the same as they do from the container. After your base is completely dried, get your painter's tape and make straight lines where you'd like the separation to be. Then go ahead and paint with the rollers between the divisions. Before the paint dries, remove the tape, and grab two brushes with the corresponding colors and paint into each other simultaneously. To give that final, clean blended effect, get a clean brush and gently brush over where the two colors meet, and voila! You have an ombre!
3. The Drip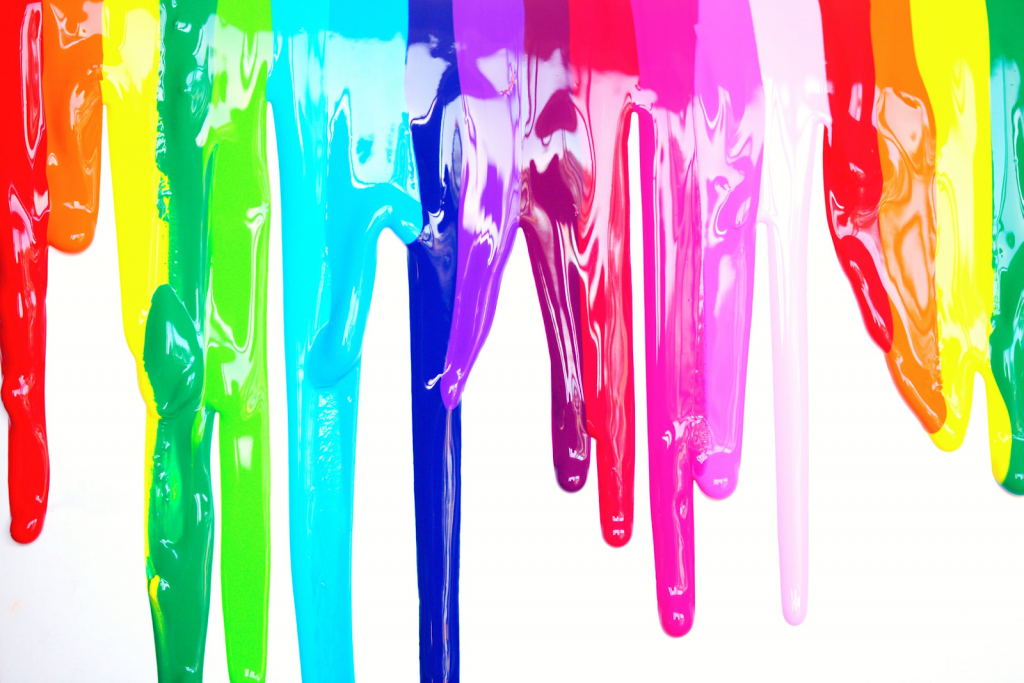 If you really want to give your wall not just a professional look, but also a professional artistic look, then the drip effect is probably the coolest way to do it. This is not only creative, but also a ton of fun to do!
The first thing you want to do is choose your base color, and put two coats so that it's a solid and clean base. After that has completely dried, it's time to get dripping! Depending on how many colors you'd like to have dripped, get separate ketchup squirt bottles for each color. To make sure that the paint is loose and has a consistency to have it drip freely and give you the desired effect, mix equal amounts of water and paint in the bottle, and shake well to make sure it's just right.
Place your painter's tape at the bottom and top of the wall, or if you'd like to give a different effect, you can also place the tape at as many intervals as you like. Then grab a sturdy ladder and your bottles, and place the nozzle at the top, releasing the paint slowly so that it begins to drip. Keep squeezing until the paint reaches the desired length of the wall. Repeat all across and stand back to admire your work of art!
4. Washi Tape Walls
This is a project that knows no bounds to the amount of creativity and imagination you can let loose. For those of you who don't know what Washi tape is, it is a masking tape that originated from Japan, and comes in a multitude of different designs and colors.
As usual, put on your base color and let it dry. Before you go ahead and start decorating your wall, it's always a good idea to draw out your design on paper so that you have an idea of what you'd like your wall to look like, and so that it looks professional and not like a hot mess! It's never a bad idea to get a measuring tape to space out the placing of the tape evenly all along your wall. What you do with the Washi tape is entirely up to you. You can have crosses, circles, dots, any shapes or designs your heart desires.
You can take the wall design a step further and integrate either the ombre or the geometric wall with the Washi tape, but if you do so, make sure you don't go overboard so it doesn't lose its professional and classy look and class to your decor.
5. Stencilled Walls
Stencilling walls yourself is an amazing way to give your walls a wallpaper effect only this will look much more authentic, and you get to pick and design the stencil yourself!
Pick the two main colors you'd like to have with this effect. You'll need one for the base, and one for the stencilling effect. To make sure that the stencils are straight, you have to draw a straight line right down the middle of the wall, there's nothing more unprofessional than a wobbly stencil design!
Get your stencil design done the way you like, or buy it ready made, and then align it with the line that you've drawn on the wall. Hold it in place with painters tape across all the border. The key to getting the perfect outcome for the stencilled design is to use as little paint as possible. A good way to achieve an even light coat is to run your roller through the paint, and before going to the wall, roll it once or twice on a good kitchen paper towel. This is so the paint doesn't look too prominent and gives an elegant wallpaper effect. Do it about once or twice.
Since the coating is so light, the paint dries up pretty quickly, making the process of moving to the next patch much faster so that the tape doesn't ruin the paint from the previous stencilled area. This may be a little time consuming, but it's extremely rewarding when you see the final product.
Just like a pro
Doing anything on your own that you're new to is always a daunting task at first, but once you have all the information and direction you need, it is actually a lot easier than you would imagine. Painting your walls like a professional is something that you need to do to perfection because these are things that cannot be hidden- and shouldn't be! Being prepared beforehand with the right tools and equipment, having the design ready on paper, and picking the right and the best quality of paint is always going to have you ahead of the game, and you'll be accomplishing your professional paint job just as easily as the actual professional does.
There's no need to wait for days and hours for someone to come and possibly not even give you the final result that you had wanted to begin with. You are perfectly capable of painting like a pro, and have the comfort and opportunity to be as creative as you like, and also as often as you like without the added expense of hiring help. The best part of it all is that you can also have a ton of fun bonding with friends and family, thinking of new and crazy ideas together!