The title of this post must sound a bit strange, but rugs can be more than just an item you lay on the floor. A rug is also a decorative piece that not only improves the look of your room's floor, but wall too. This is becoming an increasing popular trend that is perfect to show your personality and originality. Read below to find out more.
Where Does The Trend Come From?
This trend was already popular centuries ago in the far middle east where traditional rugs were used for decorative purposes. Rugs would be used to create colour, insulation and sound-proofing, and also back then, to create a homely feeling. Afterwards, the rugs would change in design and size as the trend becomes popular among young people from the 60s onwards. The rugs show up in noisy houses and to cover up poor conditions like mould. They also help showcase the identity of some subcultures, in particular hippies. This tendency is still present, but now with the addition of the people who use it to reinforce an ethnic look.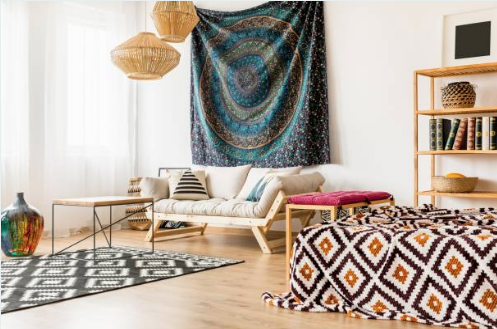 How To Do It
There are different places in your house where you can decorate a wall with a rug. The living room is the most common place, as it helps to create a focal point but It can also help define the place, by marking a meeting point where your guests feel invited to gather. Another quite popular place is the bedroom, where it helps you create your own cocoon and create a warm and cosy atmosphere. The places you should avoid would be the kitchen and bathroom, since spillages and other kinds of hazards can occur, and as a result the rug could get damaged.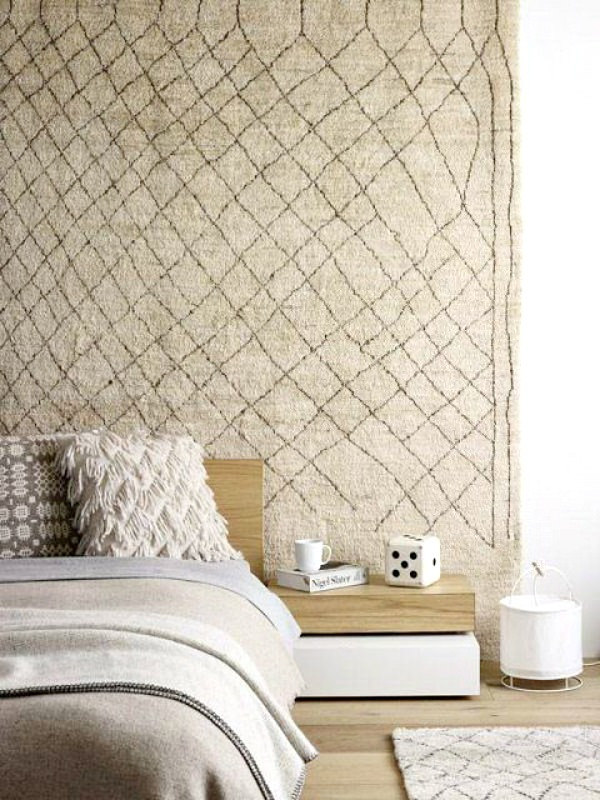 What Is The Rug Made For You?
Because it all started with traditional rugs, those are the one most used for this purpose, still today. Compared to modern or shaggy rugs, traditional are more effective, as they give personality to the room, they create a focal point more effectively, and their designs tell a story and create a better lasting impression to the person who looks at them. But of course, this only depends on your personal choice.  If for example you prefer to go for a modern rug, an effective way would be to go for one with traditional inspired patters, or you can always go for an art-type design that reminds us of a painting. The reason we don't advise shaggy rugs is because of their weight. Plain rugs are not advised because on the wall it could just look dull, and would not really add anything to the space.
So there you have it, a little guide on how to use a rug to decorate your wall. Something very simple, but also different and original, that will give a touch of uniqueness to your place!