Kitchen counters are not what they used to be. People are not only looking for places to work and cook, but also something beautiful and sophisticated.
While marble is a beautiful choice, it can be hard to keep clean, need to be resealed once a year, and can be easily chipped. It is also extremely expensive. There are other materials to choose from that not only look like marble, but are more rugged than the porous rock – at a fraction of the cost.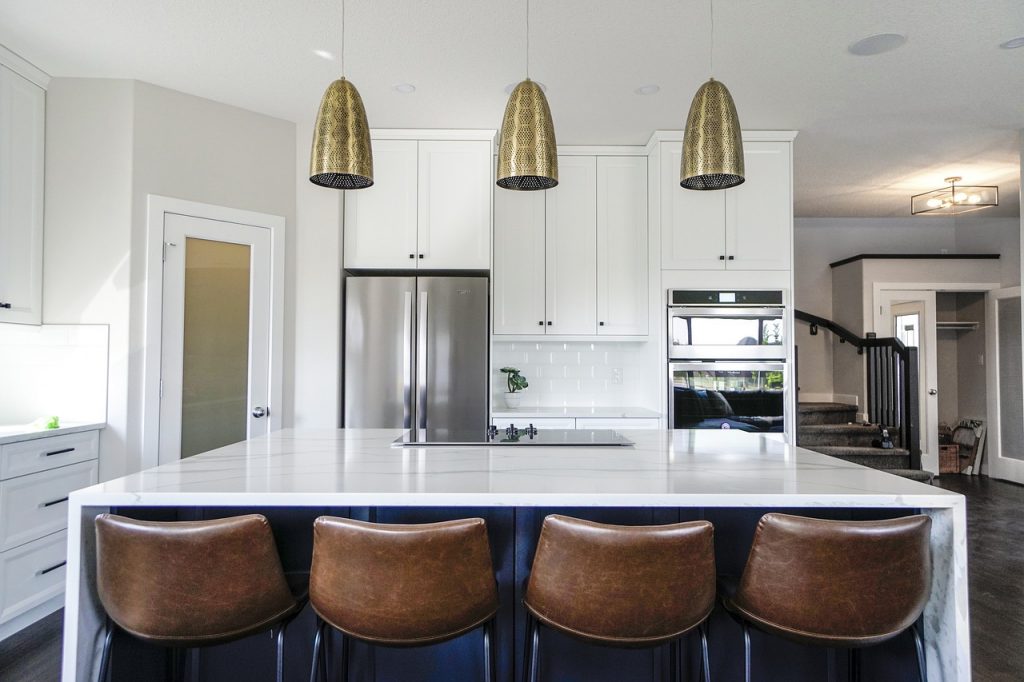 Below are some guidelines on the best designs, what is available, including marble, and how to choose.
1. Marble
Marble is a great surface for counter tops and brings sophistication and refinement to a room. It can be used as a surface for the counters or can be mosaics on black splashes or on islands. Marble varies in the size of grains and amount of veining, so stone quarried from different parts of the world have a unique look. Again, marble can be chipped and absorb stains so you have to be willing to put in the time for cleaning, care and repair. If you want to find out more about marble, you can visit the Marble company site which creates and installs over 2,000 colors of the stone.
2. Quartz
Quartz is nonporous, which makes it a more sanitary, more easily maintained countertop. Modern design also allows for quartz to look like natural stone patterns, and even include dramatic veining. It is also very solid and hard. It is less expensive than granite and much less expensive than marble. Quartz is ground with different resins and colors and provides a huge variety of colors that look similar to natural stone. It is scratch and chip-resistant. Once you choose a slab, it is cut to match the dimensions of your countertop space. The This Old House Web site has some terrific information about quartz countertops.
3. Granite
Granite is 100 percent natural stone. Granite is tough and durable, but it is also porous, which means it can be scuffed and absorb stains. It needs to be sealed periodically to resist water, stains and bacteria, and it also comes in different colors, depending on the location where it is quarried. The Kitchn Web site provides great information about granite countertops.
4. Quartzite
This is a hard, metamorphic rock that originated as sandstone. Through a process of heating and pressurization, sandstone turns to quartzite. It is extremely strong and durable and feels like marble, without the maintenance. Don't confuse it with quartz – quartzite is naturally occurring and mined from the earth, cut into slabs and polished to create countertop material. Quartz is engineered. Again, This Old House has a great section on quartzite countertops.
5. Travertine
Travertine is a variation of limestone, but it is combined with cement before it is smoothed and polished, to provide as more uniform surface. It is ideal for both residential and commercial kitchens. Travertine is visibly porous and provides a more textured look to countertops. The stone, like granite or marble, is soft and will require frequent sealing. It comes in warm colors such as beige, gold, red, and brown and it is available in a variation of styles such as polished, honed and saw cut. The Sefastone Website provides information about the pros and cons of a travertine countertop.
These are just five examples of marble and marble-like countertop choices – there are dozens more to choose from. It's a good idea to do some research – go take a look at the products – to decide what is best for you and your kitchen.