Your little one might show interest in cars as evidenced on the type of toy they choose or movies they watch. Why not surprise your kid with a car-themed bedroom? It will turn all their childhood days full of memories, that will inspire them to learn more about cars.
Make your child's dream come true and let him explore the world of cars by making their bedroom a comfortable and beautiful place to enjoy their favorite hobby. From car collectibles, car-inspired lighting, bed frame, toys, pillowcases, and blankets, you can do wonders and turn his room into a car-themed bedroom.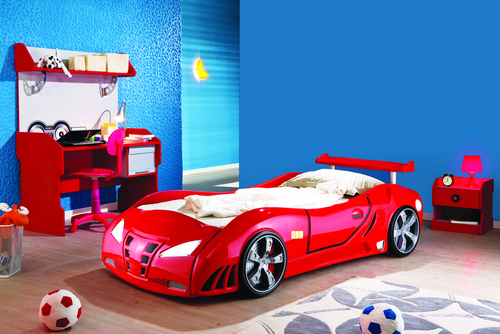 In this post, you'll learn tips to help you create a car-themed bedroom for your kid. Enjoy every step of your interior decorating journey with a good resource today.
Apply Great Auto Decors
Fascinate them with a car bedroom motif, highlighting race cars, muscle cars, and sleek sports car. Find a good resource online to help you in decorating your child's room with a car-inspired theme.  Bring out the colorful road signs and bright, stylized autos for a baby nursery.
Here's are fantastic tips to bring your kid's room with a zoom:

Paste car-inspired wallpaper in your child's bedroom.

Colorful street signs, race cars, and checkered flags are great designs for a navy blue wall background.

Hang racing flags using sticky hooks on the wall. You can also suspend racing flags from the ceiling.

The most affordable way to decorate a car-themed room is using posters, such as colorful prints from famous movie cars.

Older boys will love seeing glossy posters of cool race cars or their favorite cars.

Using checkered throw pillow and curtains perfectly ties with a car racing theme.
Work on Lighting
If you know how to work with lighting fixtures and electrical work, you can implement similar car-inspired lighting. If not, you can hire someone to install built-in lights to match your smart home, like car lights on a customized car-themed bed frame or ceiling which integrated with your home security.
Here are some tips when buying and installing car-inspired lighting:

You can buy a Vintage Race Car Tripod Lamp, which has a translucent shade material and non-fade inks. The suggested CFL bulb is 13 watts for lamps.




LED strips are also available on hardware stores and install it on your kid's cabinet perimeters.

Traffic light lamps are also available online, like Kidsco Traffic Light Lamp, which is made of premium quality material that you can plug anytime for a City or Mini Time Square ambiance.




3D Deco Night Lights provide soft lighting because it uses LED bulbs. Make sure to choose one that is CPSIA & PTPA approved.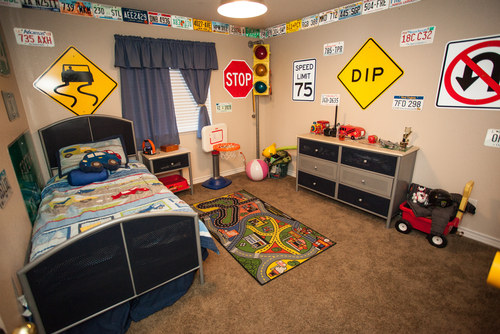 Customized Bed Frame
If you have a knack in building DIY wood projects, why not apply it and create a customized bed frame that is car-inspired. You'll find DIY online resources that will give you creative ideas on how to proceed with your next big project.

While there are ready-made or customized car-themed bed frames that you can purchase on home furniture stores or shops, your child will greatly appreciate and remember the memory of you planning and making their dream bed turn into a reality.
Also, here are the other benefits of building a DIY car-themed customized bed frame:
It's a great bonding time for a father and son. You can get great ideas from your child, too, by the car movies they've watched. You might be surprised how wild your child's imagination is through their shared ideas.

Spend less on materials and labor cost because you can use leftover materials from a recent home improvement project and you don't have to hire anybody to help you, if you already have the knowledge, skills, and experience doing carpentry work.

Create a personalized design not found elsewhere, which is a confidence booster for your kid when they invite friends for a sleepover.
Use Car-themed Wall Paint
You can also spray paint your child's room with blue and bright red colors that best work for a car theme. Using craft paints can ignite your imagination, which is best when adding road murals, like race tracks, bridges, street signs, and traffic lights.

If you're not comfortable painting the room with street signs, you can cut them from poster board, applying stenciled lettering or die cut. Wall decals are also equally attractive.

Conclusion
You probably have kept old car toys from your older children, which you can use to decorate a car-themed bedroom. With your creativity and careful planning, you'll come up with great ideas for your kid's bedroom without spending that much. Happy decorating!