Decorating a nursery for your new baby is can be one of the most exciting things to do. From cute blankets and toys to unique cribs and bassinets, the process of creating a great room for your child is rewarding. It's important to take time to brainstorm ideas and themes that you would like to follow. Having a main theme will make it easy for you to find other pieces to make the room come together.
You can find inspiration from many places like baby websites, blogs, magazines, and even the Pinterest app. It's important to incorporate all the necessities of a nursery, even though you may want to be unique and have your nursery stand out against the others. When choosing a theme remember your own personal interests and what you want to look at every day as well. Maybe you'd want to use your favorite childhood movie or book as inspiration.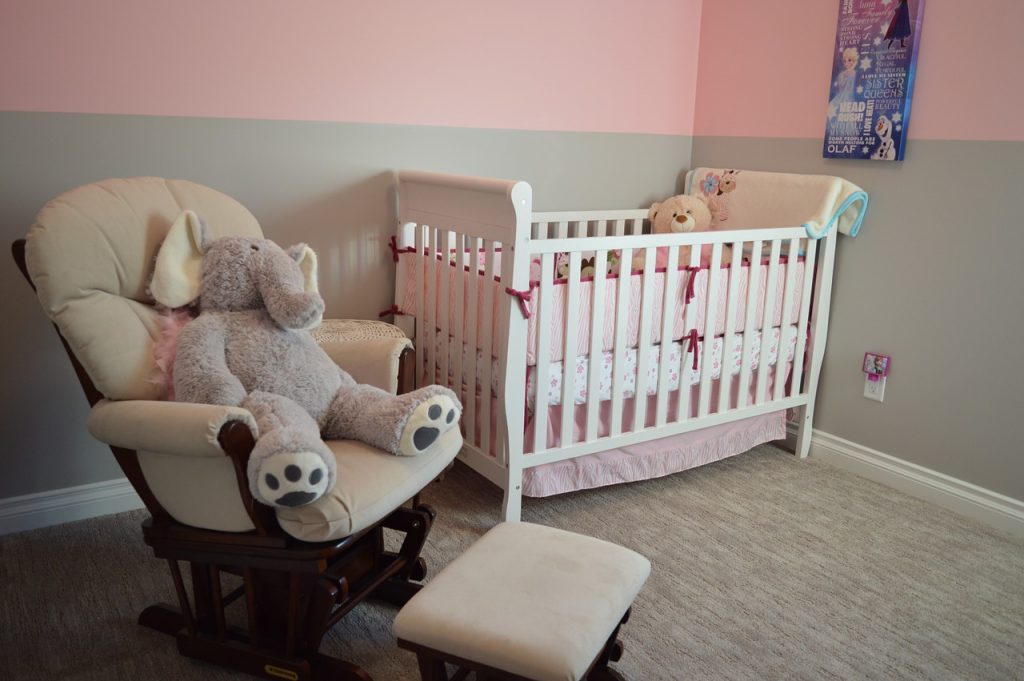 You can use your past travel destinations or experiences to help you decide. For example, many people enjoy the idea of Paris, so there are many Paris themed nursery rooms, or beach themed rooms that are influenced by the parents love or appreciation for the ocean. There are so many designs out there that you can choose from when it comes to decorations. You can also use your hobbies as a theme and make their room surrounded by musical things.
Popular themes for nursery rooms:
Sport theme

Nighttime theme

Animal theme

Minimalist Theme

Rainbow theme

Wall bookshelf
When you figure your theme you can start choosing what kind of things you want your nursery to have. There are the necessities like changing tables, dressers, and cribs, but what about the other things that could go in your baby's room?
Mobile
Find a unique mobile to hang above your baby's crib. Try to stick with your overall theme to make the room look well put together. Make it something sweet and dainty or something cute and flashy to keep your attention along with your baby's. You can even make these yourself if you want to take the time and really personalize the mobile.
Growth chart
Adding a growth chart to your wall will add cuteness to your nursery while allowing you to see how fast your child grows. You can keep this growth chart as long as you'd like to track them throughout the years. You'll be surprised at how fast your baby grows and it will make you happy to see this when you walk in the room. To know that your baby is growing healthily and to display that will give you the gratification of knowing you're a good parent.
Babycakes
Another decoration that will make your baby's room stand out is a baby cake. Babycakes are unique and can be specialized to your liking. There are plenty of designs to choose from and are adorable additions to your child's bedroom. Allow them to sit and be adored by you and anyone else who enters your baby's room.
Reading Nook
Amp up the coziness of your nursery with a reading nook. We all enjoy teepees and to designate it for reading will make you and your baby love story time.
Glow Nightlight
Nightlights are crucial to keeping your baby's room lit throughout the night and you can go with a basic wall plug-in light or try to stand out with a glowing nightlight. This will add a cool design to your room while also lighting it to the gentlest tones.
Tassel chandelier
If you enjoy DIY projects, creating a tassel chandelier for your nursey will be a fun and easy for you. Not only will this allow you to make your baby's room to stand out but personalize and make the room even more special. Save a little money with this option as well. But, if you don't enjoy creating things on your own or want it to be professional then finding a tassel chandelier online will be easy. You may find some at stores like Anthropologie or Nordstroms and they may be a little expensive. You pay for what you want and if you want a chandelier to add spark to your nursery this is for you.
Wall bookshelf
Jazz up your nursery room with a cute place to put your storybooks. You can do this idea if you want to add something to your room or if you have no true place for storybooks. You can use any style you want and hang them on any wall.